3 Good Ol' Fashioned Service Qualities to Revive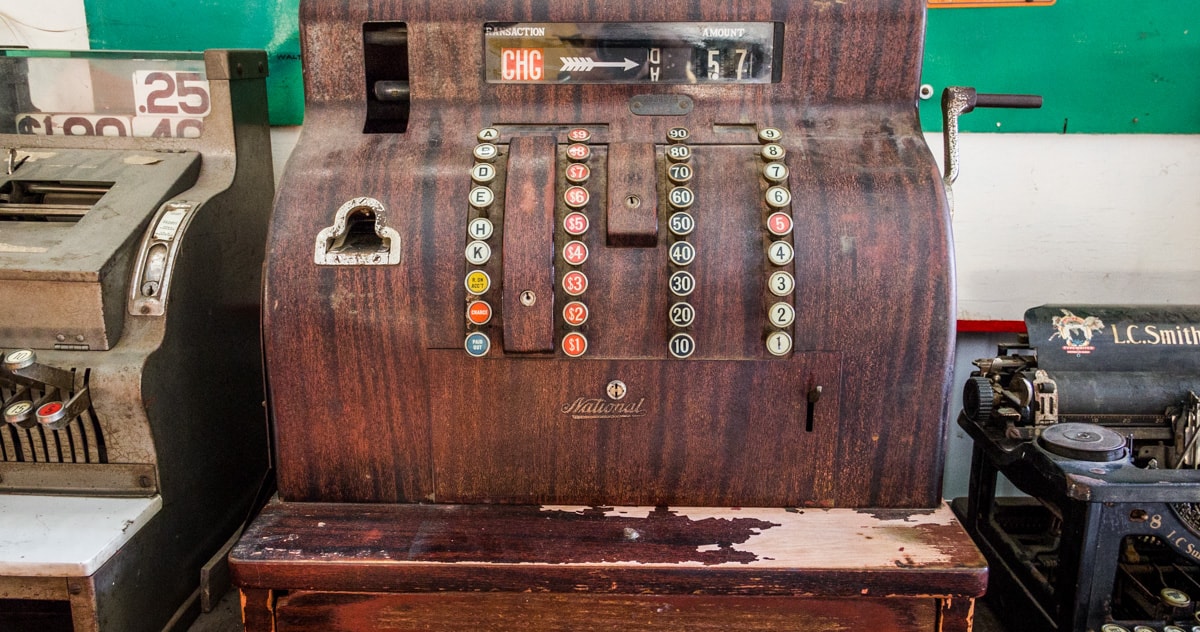 Recognize this? Likely none of us ever checked out at this antique cash register. Our grandparents and great grandparents did.
That era of good ol' fashioned service and quality products is fading some.
Think about what you would have experienced at the general store a hundred years ago. The little bell rings above the door as you walk in.  Perhaps you were picking up some nails and ten pounds of flour. You end up visiting with the owner of the store for 30 minutes about how "the family" is doing. Conversation would wrap up as you realize that you needed to get back to your own work down the street. You think nothing of handing over a few bucks as the clerk rang up your total on this machine. The owner waves as you walk out the door.
You trust the business. You feel valued by their attentiveness.  You will be back many times over because of their warmth.
There are small businesses that exist that possess this mindset and atmosphere.  If you walk into their store, they remember your name, visit with you, are interested in you and your family.  The struggle with those businesses is to try to communicate that same feel through their website.
Today, many small business use websites that tend to have a dry and impersonal transactional feel.  There is not much effort into shaping the message and overall experience.  The result is that the visitor walks out the website "door" and into the next business that offers them a better experience.  And you miss out.
Is there a way for a small business to recapture that old fashioned service online - of being trustworthy, where customers feel valued, and you form a long term relationship?  Absolutely!
There are three ways to build this kind of relationship.
Build Trust Through Your Website
Since many small businesses will first come into contact with their target audience online, your first opportunity then is to put your best foot forward with your website.
When a visitor comes to your website, do they see a cluttered "storefront"? Do they know where to find the items? If you sell a service, does your website convince them that you are a legitimate business?
Having a modern website design with a clear and convincing message can build a trust with a potential buyer/client. Make it easy for the visitor to contact you.  Do they know what service you provide?
Provide your client clear information on your home page.  Give them simple navigation.  Direct them to the pages they are likely looking for.  Your About page should tell your story in a way that explains what makes you different from others.  Don't waste words - visitors don't have time to read a novel.
Value Your Customers
When someone contacts you to inquire about your service, do you shuffle that email off to the side for a few days?  Taking time to respond within minutes during normal business hours will show that you value them as a client. Pick up the phone and give them a few minutes of your time to introduce yourself.  Your time and effort show how much you value them.
Warmly Invite Them to Come Back
Follow up with your customers. Make sure they know you want them to come back - and that they were not an inconvenience. (Don't laugh... you know the feeling of standing at the counter with an employee who impatiently serves you.)
It's kind of like waving at them when they walk out the door.  You want them to know you appreciate them.
The way to accomplish this online is to follow up with emails or phone calls to make sure they were satisfied with their product or service. Send them a discount coupon for any further business. Tell them that you appreciated them deciding to purchase through you.
It Takes Time
Cultivating good customer service takes time and effort.
Write down how you take care of your clients when they come to your business.  Then craft your website to communicate the same trust, value and warmth.
We would be happy to review your website and help you communicate your values to your audience.