Housekeeping For Your Small Business Website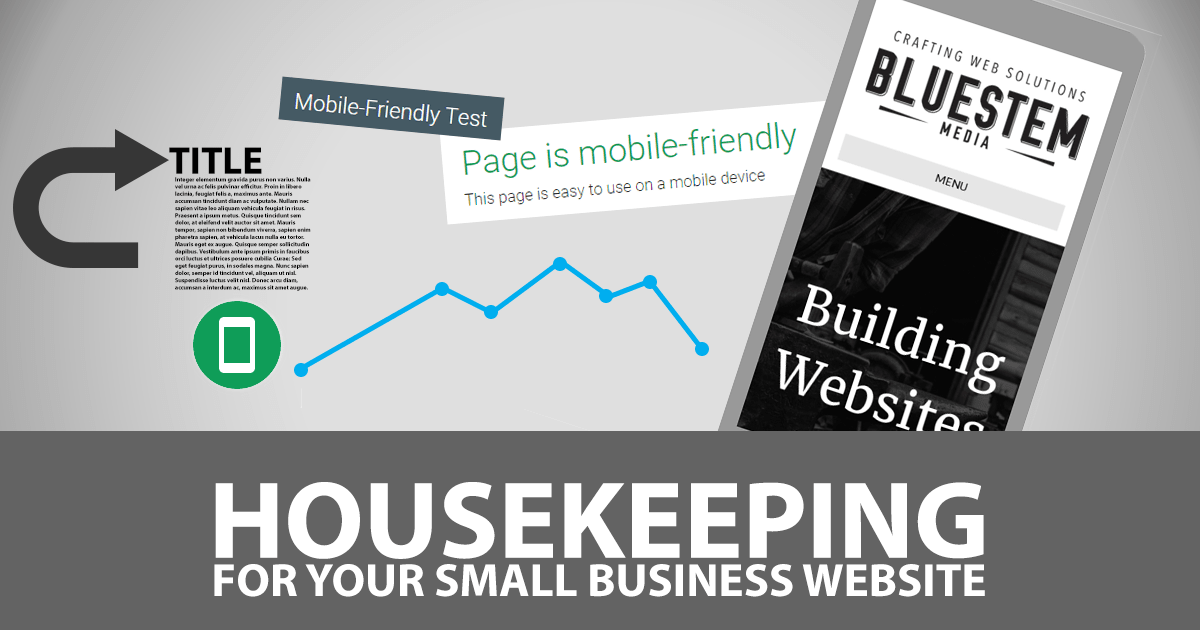 Time for Website Housekeeping
Let's talk about a little housekeeping for your small business website.  Since you don't have the funds to have a full time web developer on staff, let's go over some basics of what you need to know - and what your website should be doing for you.
Up-To-Date Information
Nothing says "ugh" worse than old information on your website from an event from 2001 on your website - especially if that is still an "upcoming event".
The first thing people say to me when the topic of web design comes up is: "You gotta redo so-and-so's website... it's terrible!  They have old information on it and it needs help!"
What to do:  Browse through all the pages in your website.  Look at it like your client would.  Make sure the pages have current content.
Check for pages you didn't even know about by going to Google and typing in "site:bluestemmedia.net.tempdomain.com" into the search field with the word "site:" before your domain name.  That will bring up all the pages Google knows about - and likely the pages that people are clicking into.  Remove or redirect old pages.
It is not wrong to clean up and simplify your website if has become bloated and out of control.
Google Analytics
Your website should have Google Analytics installed on it from the first day.  Google Analytics is a free service by Google that is easy to install and can give you some great bits of information that will help you market to your target audience.  Google Analytics is pretty slick.  The nice thing is you don't have to be a mathematician to read the reports.  And there are many videos on YouTube that you can watch to learn how to read your analytic data.
What to do:  If your website doesn't have Google Analytics, go to https://www.google.com/analytics/ and sign up for an account.  They've made it easy to set up.  The hardest part of this is you will need to install some code on your website.  Follow Google Analytic's instructions (or send me a message).
Mobile Friendly
Your website should be mobile friendly (responsive) - meaning if someone views your website on their phone, they will be able to read the content without zooming in and out on their mobile device.  Your one website will respond to the size of the screen the visitor is using - desktop, laptop, tablet, phone - which is why they sometimes call it responsive web design.
In 2015, Google began an effort to promote mobile friendly websites higher than those that weren't - leaving some websites in the dust.
The bottom line: Your small business website must be mobile compatible.
What to do: If you don't know if your website is mobile friendly, use Google's tool at https://search.google.com/search-console/mobile-friendly.  It will give you a report of how it ranks your website.
If your website needs to be redesigned as mobile friendly website, you may want to look at hiring a web designer to assist you with that.  We would be happy visit about what your needs are.
Good Content Strategy - Leading to Conversions
Imagine your dream website for your business.  Your website has 200 pages.  Google ranks it #1 in many search results.  You are getting thousands of visitors a day.  But you get very few sales or contacts.
What is happening?  Everything seems to be working well.  But obviously, you are missing something.
Having a large website, the right keywords, or many visitors doesn't do much good if people aren't buying.
Think of a brick-and-mortar shoe store.  They could have thousands of shoes.  Thousands of advertisements.  Thousands of visitors.  But the place is a mess.  People walk in and are confused about where to find the shoe they need.  They try to find help, but no one is around.  The signs in the isles are not clear.  Those customers will walk out without buying anything.  They will never "convert" as a customer.
Stores spend time and energy planning out their displays, the layout, the lighting, the music, even what their employees will say to encourage people to feel like making a purchase.
The same thing happens within a website.  Careful planning has to happen.  Having many pages doesn't have the same impact as a few pages that have a strategy.
If you can get a visitor to go to your home page, click a link to your services page, then go to the contact page to fill out a form, you have accomplished a "conversion" with your simple website.
There are measurements with Google Analytics and Google Tag Manager that could help you determine how your website is performing with conversions.
What to do: Draw out on a piece of paper what you want your audience to do when they come to your website.   On the home page, what is your primary goal for them?  What is a secondary goal?
How do you think they will end up buying or contacting you?  What can you say or do to simplify that process?
Is there too much clutter?  Too many steps?
Find out what your website visitors are doing.  Install Google Analytics and Google Tag Manager to track how the visitors are navigating your website - and who actually converts.
Your Website is Your Marketing Tool
I know you wouldn't have a cluttered storefront, a broken down billboard out front, or the lights off in your store.  How about putting some into your website.  Think of your website as your marketing tool.  It's worth your time and effort now to make sure it is working.
We would love to visit with you about how to get your website working for you again.  We enjoy the challenge of crafting a website that actually works for small businesses!  Give us a call or send us a note!