Your website is your church's online reputation.
So, what do visitors think of your current website?
Confusing?
Unprofessional?
Can't find your website?
We can help you build a church website you are proud of.
With each website we build, we focus on:
1. Clarifying your message
2. Building a strong SEO presence
3. Delivering a stunning design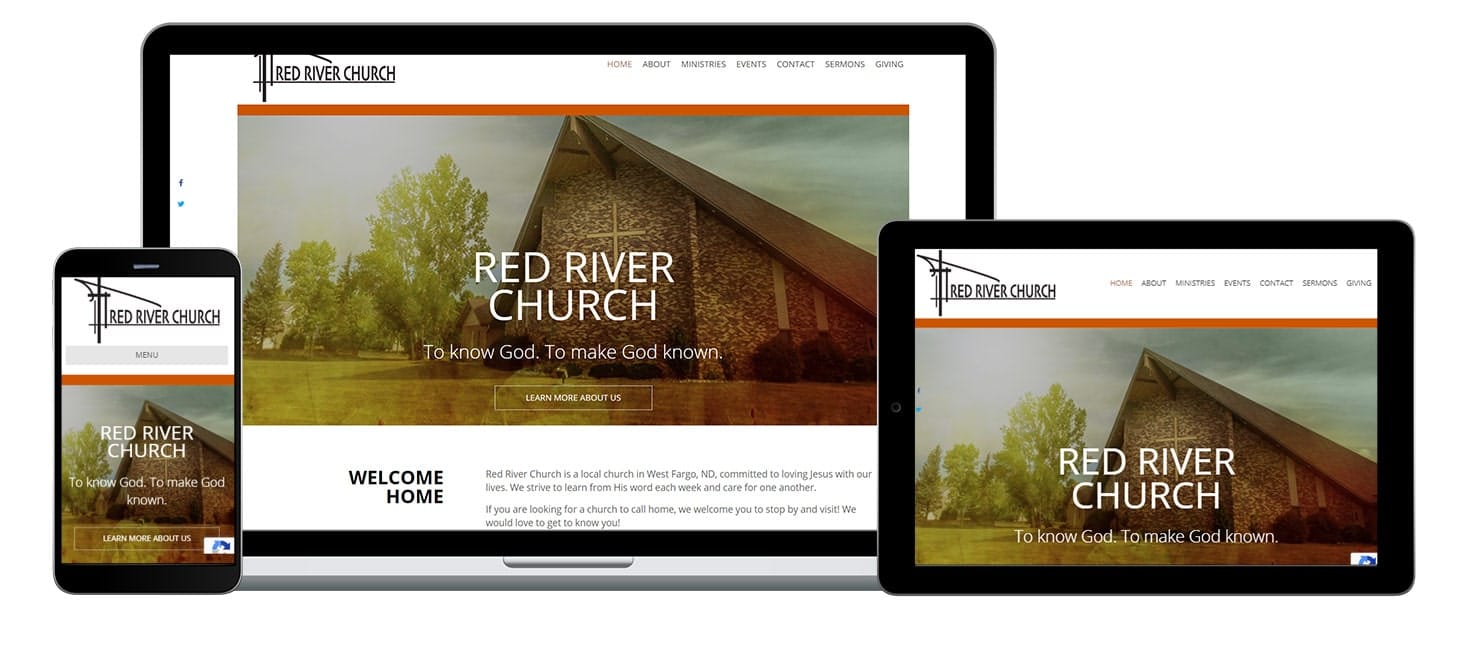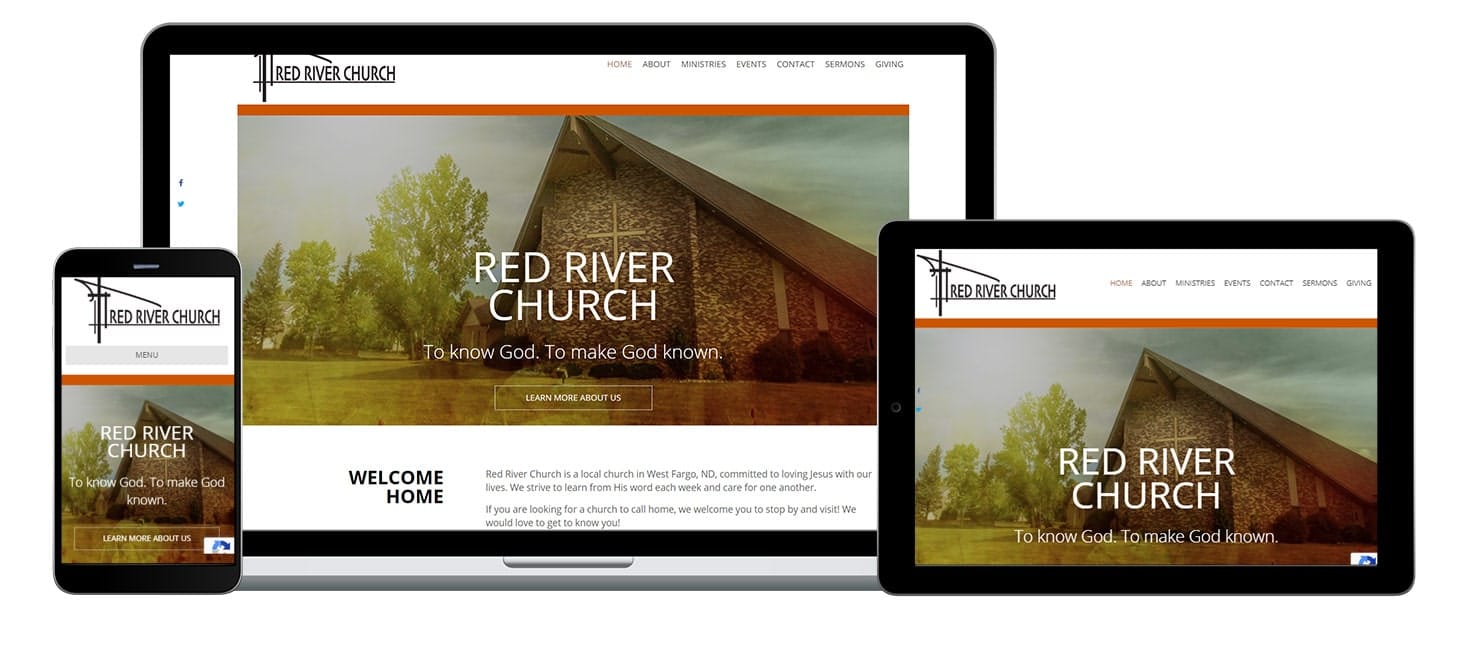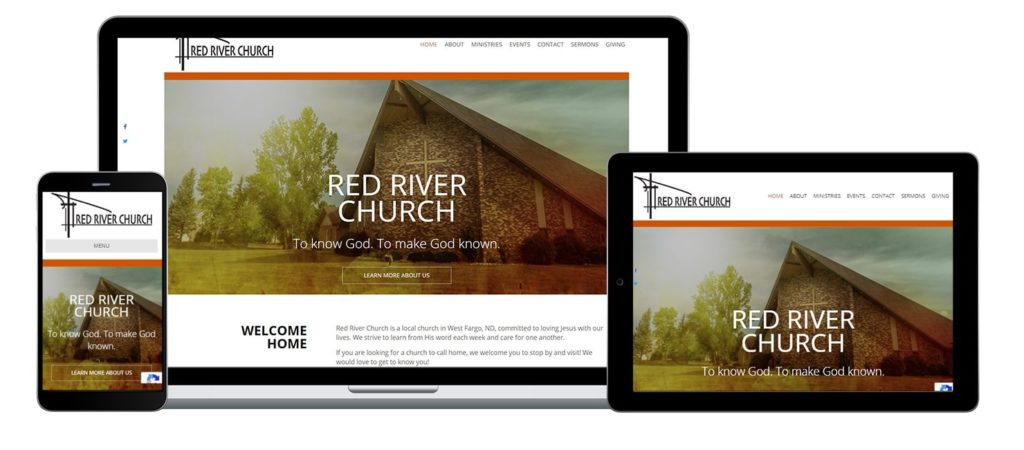 Red River Church of West Fargo, ND is a medium sized growing church committed to loving Jesus with their lives.
Bluestem Media designed a website that replaced an aging, ineffective website.  Red River Church immediately noticed growth in website traffic - mostly due to improved search engine optimization (SEO).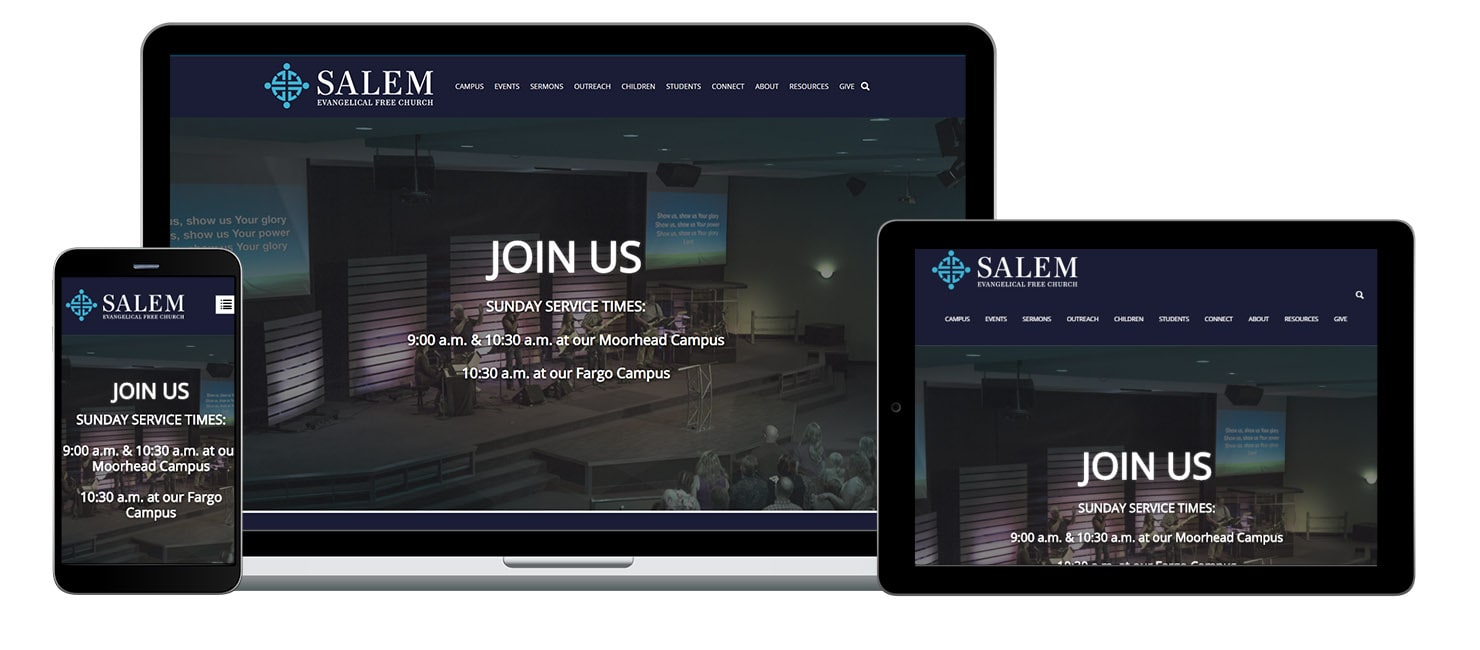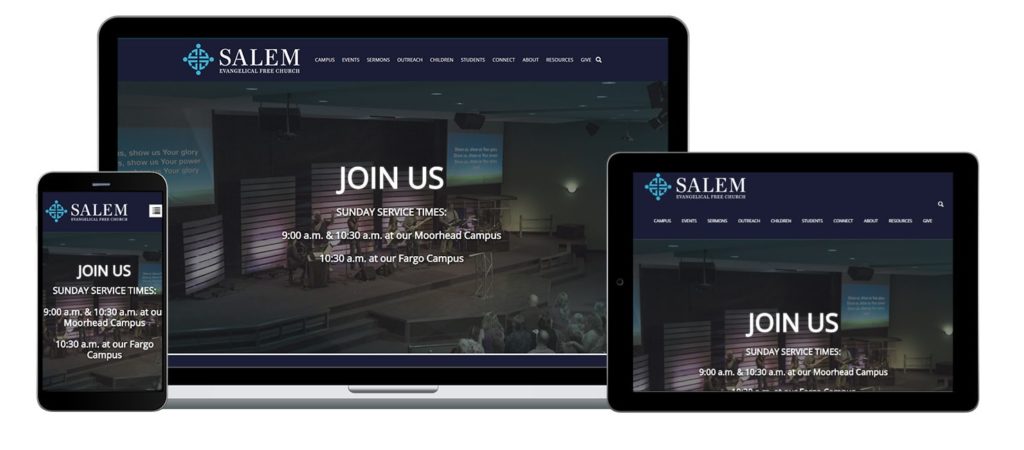 Salem Evangelical Free Church
Salem Evangelical Free Church is a multi-campus church with locations in Fargo, ND & Moorhead, MN.
Bluestem Media built a website from the ground up that gave Salem a customized website to reach the community and serve the congregation well.  Bluestem also incorporated sermon audio and video for convenient access.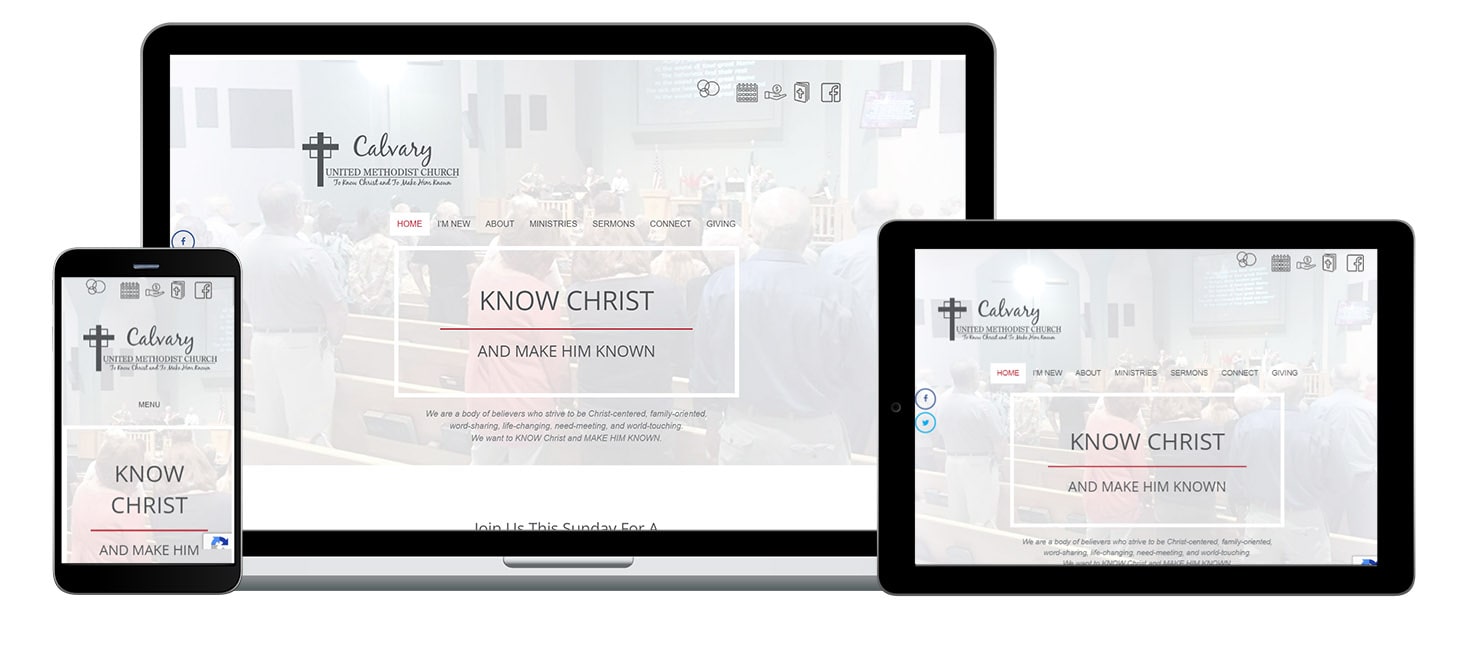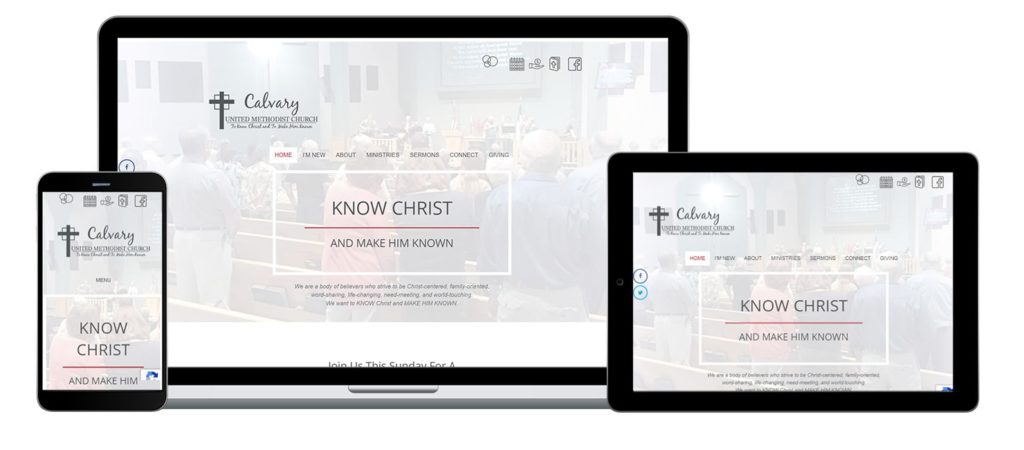 Calvary United Methodist Church
Calvary UMC is a growing church located in Fargo, ND.
Bluestem Media worked with the website committee to design a website that clarified their message and created an easy to use interface, including accessing sermon audio and video online. Calvary United Methodist Church also benefited from an increase in traffic through organic searches (SEO).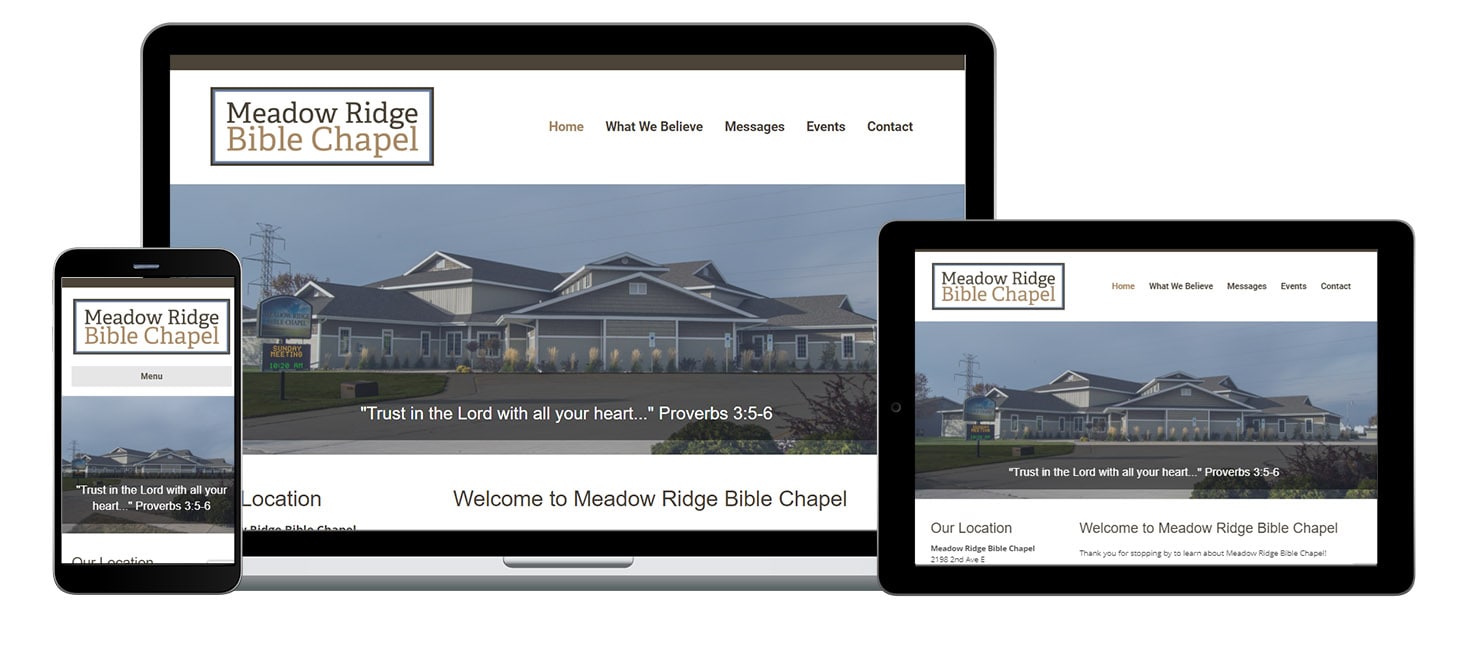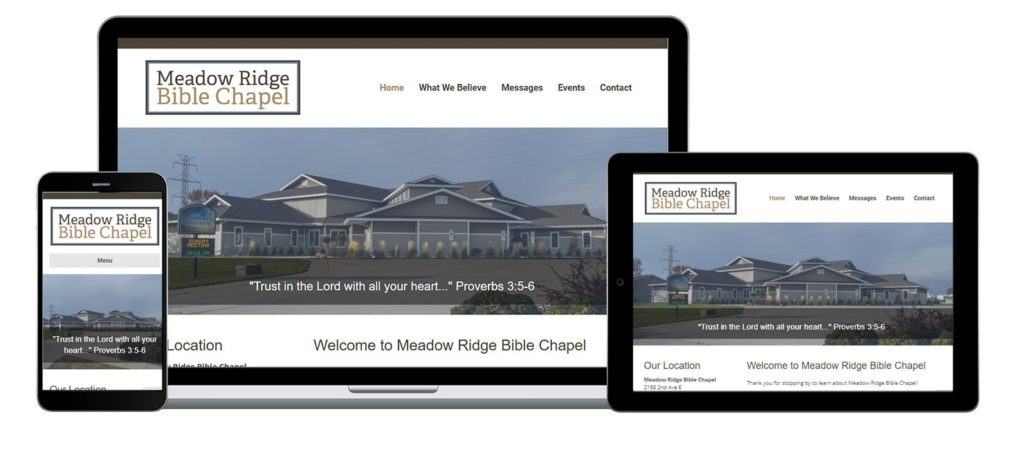 Meadowridge Bible Chapel is a local church located in West Fargo, ND.
Bluestem Media built a new mobile compatible website with clear messaging all while staying within a set budget.
How Our Websites Help Churches
Your church website has a lot potential to connect with others around you in your community.  If your website is too wordy and confusing, they likely won't visit on a Sunday. We help you communicate your message in an clear and straightforward way.
Worried your church website is not being found in Google searches? Our team designs the inner workings of your website to place your church in the top Google results of your target clients. We follow through with ongoing search engine optimization (SEO) improvements to make sure you see a return on your website investment.
Design is much more than colors and layouts. It's the way your website visitors will experience the culture of your church for the first time. Our team customizes the perfect design to represent you well and attract new visitors.
What Our Clients Are Saying


"Our website turned out amazing and we are definitely seeing our website generate activity for our business. It is user friendly, clean and professional."


"I would highly recommend Eric and Bluestem Media to any business looking to step up their website!"
John Vines, Operations Manager
Salem EFC, Fargo, ND
Features Built Into Your Church Website
You've probably noticed that many 'affordable' church website builder companies build dozens of websites each week.  But they do this by using templates and a cookie-cutter approach - saving churches money, but the content and design can end up being generic and unappealing to website visitors.  There is a better way!
We build every website with creativity and customization so you can be proud of your church website!
Do you feel overwhelmed with the tangled mess of information throughout your website?  Think of how your website visitors feel.  Our team works on your content strategy to organize your site so you can clarify your message.
Migrate Your Current Website
Is your current website outdated, but you've put a lot of work into it?  We have great news for you!  We can transfer your content into your brand new website for you!
Search Engine Optimization (SEO)
While there is no 'magic bullet' when it comes to ranking #1 in Google, there are ways to build a website that helps to improve your ranking.  We can do that for you!
How your church website looks is very important.  For new visitors, this is their first impression.  They will choose to attend or not attend your church based on what they see and how it made them feel.  Our team works with you to create a custom professional design that fits your church's personality.
A professional design is the beginning of creating a positive user experience for your church website visitors.  We tirelessly work on every aspect of your website to make sure visitors can access what they are looking for.  It has to just feel right!
Does your church need a new logo?  Let's talk about your ideas and come up with a logo that will last for decades!
Easy To Use Content Management System (CMS)
Need access to your website for daily and weekly changes?  No problem!  Our content management system is easy to work with.  If you can edit an email or word processor document, you can edit your new website.  Upload images, change text, add new events, update the latest sermon & bulletin and more!
Most new visitors to your church website will want to see and hear what your services are like.  Don't be surprised if they watch a number of sermons before they enter your door on a Sunday morning.  With your new church website, you can upload your sermon audio, video and sermon notes.
Do most of your church members live in a digital world?  You may want to explore online giving options.  We can help connect you with an easy solution for online giving.
Easily add and organize your calendar of events on your new church website!  We can set up a stand-alone calendar, or connect with other sources such as Google Calendar and online church software.  We will help you think through the best church event calendar solution for your needs.
Once your new church website is built, we will do a 1 on 1 training with your staff to make sure you know exactly how to update your website.  And in a month or two, if you are like most people, you may forget how to do something.  Just send us an email or give us a call and we'll point you in the right direction!  We are easy to work with!
It is important for you to know how your website is working for your church.  With your new website, we offer several subscriptions that give you reports on a monthly or quarterly basis that gives you an easy to read summary that you can share with your staff.
Safe & Secure Church Website
Church websites are not immune to hackers.  We put several measures in place to ensure that your website is as safe as possible including an SSL Certificate and security software that monitors your website 24/7 to protect it from threats.
We are excited to hear from you!